DESIGNER
Marsotto Edizioni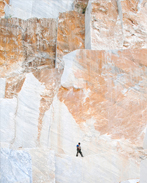 For years Mario and Costanza Marsotto, have dedicated themselves to their historic family business. Through their natural curiosity, their friendships they research and explore new territories.
James Irvine is a designer with a precise design language, proportions and signs which were waiting to be applied also to marble. The idea to create a new collection, Marsotto edizioni, was born from the meeting between Marsotto and Irvine, thanks to the empathy between them and the fascinating power of an ancient and extraordinary material.
Marsotto edizioni was launched at the Marmomacc fair in October 2009, with its first collection of multifunctional pieces designed to support and contain. All rigorously made out of White Carrara marble.
In April 2010, during the Milan Design Week, the collection was presented to the general public and the company defined their strategy. Products which are for everyday use but also surprising and sometimes ironic.
From that moment on, under the art direction of James Irvine, Marsotto edizioni has become a collection of pieces which refer to an international culture, like the team of designers who enthusiastically take part in this project.  Designers include: Alberto Meda, Claesson Koivisto Rune, James, Irvine, Jasper Morrison, Joel Berg, Konstantin Gricic, Maddalena Casadei, Naoto Fukasawa, Ross Lovegrove, Thimas Sandell, David Chipperfield, and Studio Irvine.