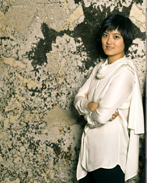 Having landed in the interior design scene only three years ago, WANG has already set the tone of what has yet to come in the next few years. A design practice conceived by Joyce Wang, WANG's reputation does not fall short behind the creator herself.
The beginning of Joyce's career marked the successful completion of a landmark hotel renovation in Los Angeles; winning an international award from INTERIOR DESIGN Magazine as well as engaging in high profile commissions from international entrepreneurs and developers.
A common string ties together the large range of genres of spaces designed by WANG: They represent high-end spatial experiences that are one of a kind – composed of fully custom designed furniture and fixtures, sought-after limited edition antique pieces and artisanal crafts carefully sourced globally.
Joyce travels to Europe, Asia and the United States to engage in design projects as well as to broaden her palette for spatial curation that will ultimately contribute towards forming a new language of luxury.