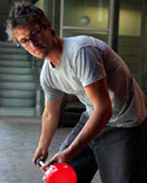 Caleb Siemon founded his glass studio in 1999 in Costa Mesa, California. With the help of a group of friends, which included Carmen Salazar, he transformed an old auto body shop into an artists' enclave complete with a village of vintage trailers in the parking lot. An everchanging collection of visiting artists helped shape the physical design and the philosophy of the studio. During this time Caleb began to develop his signature style. Thick glass, swathes of color and superior craftsmanship became trademarks of his work.
In 2002, after four years, the studio outgrew its original home and moved to a facility in Santa Ana, California. Caleb upgraded to a highly efficient furnace which recycles the exhaust heat and cuts fuel consumption by a third. A great deal of thought and care is put into every piece and every part of the process. From the raw materials on up, the team is deliberate and painstaking every step of the way. Everything is made at the studio with lead-free crystal which gives the glass brilliance without toxicity.
In the new studio, Caleb's collection grew and his aesthetic solidified. Collectors and galleries around the world began to look to him for timeless design of the highest quality. Carmen officially rejoined the studio in 2008 after studying and working in the architectural field for six years. Together, Caleb & Carmen launched a lighting line. They translated some of Caleb's vessel designs into pendants, as well as created new lines together. Their fixtures are now featured in fine homes and commercial venues all over the globe. As their lines have expanded designers now look to the pair for home accessories and lighting for their most discerning clients.